AGRO Corporate Debit Card-i. The card that balances your business and lifestyle needs both domestically and internationally. It helps businesses thrive with a card that makes purchasing convenient and simplifies your accounting.
Features
Features of Agro Corporate Debit Card-i (ADC-i)
Accepted by more than 30 million Visa merchants worldwide.
Security features with "Smart Chip Security".
Flexibility in limiting usage limit.
Notification alerts for first time usage, online transactions, purchases via contact and contactless POS Terminal (Point-of-Sale Terminal) exceeding RM50.00 directly to the Cardholder's mobile phone.
'PayWave' transaction makes purchases easy by simply made contact within contactless POS Terminal (Point-of-Sale Terminal).
Benefits
Easy and effective management.
Replaced petty cash for easier expense tracking through statements.
It is a convenient way to pay bills and manage your day-to-day business expenses.
Make payments or purchases over the phone or online to manage expenditure at your convenience.
Assured payment and avoids delays.
Contactless technology allows you to quickly and easily make low-value payments wherever you see the contactless symbol.
Increased security with tamper-resistant smart chips and data stored difficult to be taken and copied.
Accepted at all dealers or stores that participate with Visa worldwide and MyDebit nationwide.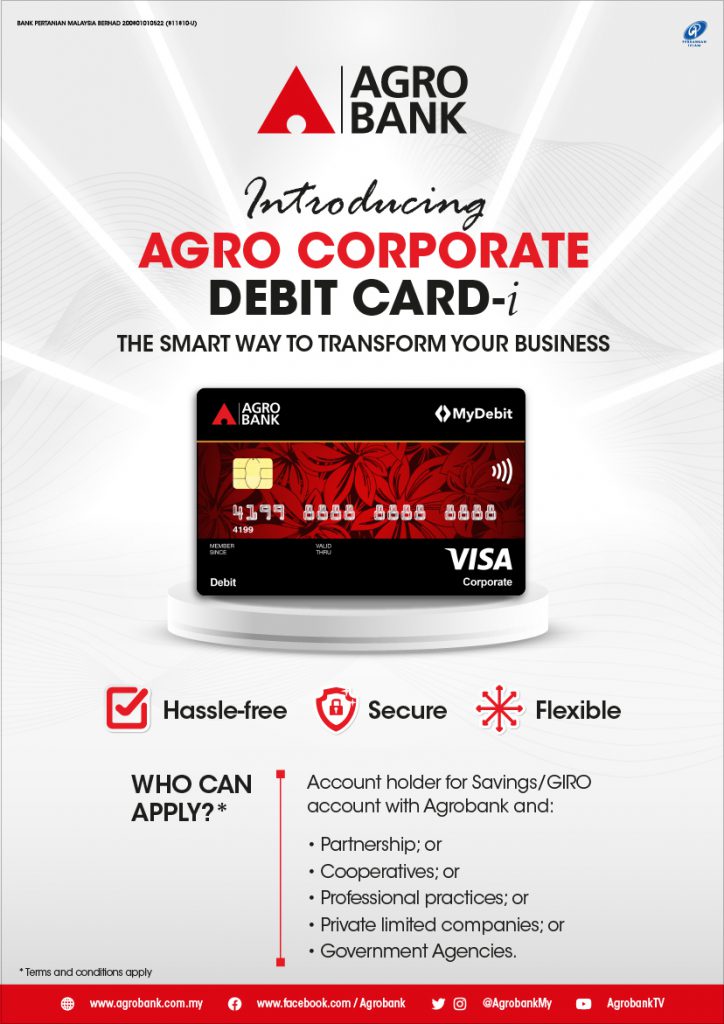 Shariah Concept
ACDC-i is structured based on the concept of Ujrah and Qard. Ujrah concept refers to the payment of a service fee in exchange for services rendered by the Bank and tax imposed by the Royal Malaysian Customs Department. Qard refers to a contract of lending money by a lender (Customer) to a borrower (Bank) where the latter is bound to repay an equivalent replacement amount of the lender.
Eligibility
Who can apply ACDC-i?
The account holder for Savings/GIRO account with Agrobank and:
Partnership; or,
Cooperatives; or,
Professional practices; or,
Private limited companies; or,
Government Agencies.
How to apply?
Please visit any nearest Agrobank branch.
Fill in the Agrobank corporate debit card application form when you open a Savings/GIRO account.
Agro Corporate Debit Card-i will be issued.
Documents Required
Corporate Debit Card Application Form
MyKad (IC); or
Police or Military Identification Card;
Passport (for non-resident).
Fees and Charges
Fees and charges
| | | |
| --- | --- | --- |
| No. | Items | Fees/Charges |
| 1 | Card Issuance Fee | RM10.00 |
| 2 | Annual Fee (2nd year onwards) | RM10.00 |
| 3 | Card Replacement Fee | RM12.00 |
| 4 | Balance enquiry at Bank, MEPS and Visa Global ATM Network | Free |
| 5 | Sales Draft Retrieval Fee (Original) | RM10.00 per request |
| 6 | Sales Draft Retrieval Fee (Photocopy) | RM5.00 per request |
| 7 | Copy of Monthly ACDC-i Statement | RM5.00 per statement |
| 8 | Service Fees (for an overseas transaction) | 1.25% (foreign currency exchange) |
Spending limit
| | | | |
| --- | --- | --- | --- |
| No. | Type of Transactions | Daily Spending Limit | Daily Transaction Limit |
| 1 | Retail/Internet Purchase (MyDebit & Visa) | Up to RM6,000.00 | No limit |
| 2 | Contactless Transaction*       (MyDebit & Visa) | Up to RM750.00 | Up to RM250/transaction @ 3 times |
Note*: The contactless function on the card (contactless transaction) can be used in the business network with the receipt of the wave at the contactless terminal up to a maximum of RM250.00 per transaction subject to the total amount of card use per day.
Additional Information
(a) You should avoid the following:
Striking the chip with a sharp or metal object.
Bending cards excessively or for a long time.
Bring cards to a place that have a strong magnetic force.
Keep the card in a hot place for a long time.
(b) Contact Centre Assistance:
For any questions or to report a lost or stolen card, you may:
Agrobank Contact Centre at 1-300-88-2476;
Visit our corporate website at www.agrobank.com.my;
Visit our nearest branches by adhering to the SOP issued by Majlis Keselamatan Negara (MKN).
Document Download
---